Bicycling Life
About Our Site
Issues & Editorials
Solutions for Little Problems,
Adjustments, and Repairs.
Using Bikes in Everyday Life
Commuting & Errands
Cycling for Fun & Health
Street Smarts for Bicyclists
Safety Issues
Advancing Cycling Issues
Getting Involved
Position Papers
Research and
Source Documents
Welcome to Bicycling Life

We intend this site to focus on the Good News about Bicycling as a means of transportation and recreation in everyday life.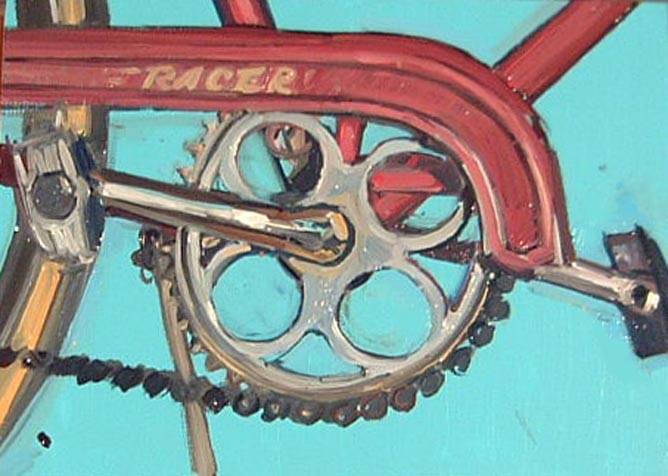 Edlin's Crank An exquisite study by our favorite artist, Taliah Lempert
(Used with permission)
Like Edlin, who's crank appears above, you may not have a racing bike (regardless of the pretentious logo), but if you have a bike, any bike, you can join the human race instead of the rat race. A quiet evening ride or a trip to the store does not require a $2000 bike.
Many bicycle web sites are "event" oriented. Lots are interested on races or racers. Most are seasonally oriented, and a few are advocacy oriented. We are not disinterested in these things. We are simply more interested in the promotion of cycling as a "normal" means of transportation for every day travel needs as well as recreation and healthy exercise.
We also want to counter all the fear mongering, intentional and unintentional, that happens when bicycling is discussed.

Sometimes cycling enthusiasts are their own worst enemy.

It starts when fairly competent cyclists start lobbying for bike paths and bike lanes at local public meetings. It ends with school districts banning bicycles as a means of transportation, or with local road closures because elected officials are afraid of liability.


Pennsylvania Bicycle Driver's Manual

We like to cover issues of media bias, faulty reasoning, and misinformation. We hope by pointing a finger at these things you will be able to recognize falsehood when you see it, and have a ready answer when someone asks why you ride a bike.

But we also intend to cover the good news about cycling, the health aspects, the pure enjoyment, the cost benefits, both to the rider and the community.

Cycling Survey
Please take our comprehensive on-line survey and encourage your friends to do the same.
Help us get the facts on cycling!

Take our Quiz

We want to show that the bicycle is not only a reasonable means of transportation, but, in the majority of instances, the method best suited for personal needs.
Now don't assume we are just a bunch of Anti-Automobile bigots running off at the mouth. We all drive. When necessary. It's just that we have found that the definition of "Necessary" varies dramatically from person to person, from time to time. Biking is a lot more fun.

So come on in, snoop around and tell us what you think.
More about Bicycling Life
Our Links Page.
Chock full of Resources.
__New__
Articles
On Assignment: Bicycling Amsterdam
Bicyclists and the Language of Marginalization
How (and when) to Change Your Chain
The Right to Travel by Human Power
Have Safety Measures Made Cycling More Dangerous?
Gentle Intro to VC (updated).